Two and a half days, from Sanctum Oasis in the Eastern Continent to Selivereb in the Western Continent, was the passage of time that took Zax to reach from one destination to the other.
If he was not in a hurry or preferred to avoid drawing unnecessary attention to himself, then there were additional matters he would have liked to handle, such as taking a detour to Monivore city and visiting its Mayor Deg and his Dewgong family or looking for Blessed Army's posts to flatten.
'Curators'. Zax noted the five. Four were in the vicinity of the passageway to New Earth. One was farther away, preoccupied in a battle against an adolescent Black Chrome Alligator, most likely to pass time.
They were Peak third level Core Master and Zax could not count on himself escaping at least one of them detection, even if all they could perceive was an inconspicuous ripple in the air.
He twirled his index finger, swirling Kinetic Force and compressing it to an orb. His palm shook a bit, the orb was unstable, but it was also his first experiment creating it as a new form of long distant attack he could maybe use as distraction against capable foes in the Elite Tryouts, a skill that will not require utilization of dark attribute.
He extended his five fingers and the fifteen centimeters in diameter orb shot like a living bullet, evading the Titan Kapok Trees vegetation to a distance of three hundred meters than hitting the ground and issuing a muffled boom.
'Good'. Zax thought as the boom got the attention of the five and they rushed to investigate, but that was not the only reason for his satisfied look. 'The kinetic energy was absorbed in the ground and dispersed without making much damage'. It meant to be a destructive attack, but in this instance he did not want to make a large commotion, so finding out that should he want he can manipulate in advance the resulting feedback of Kinetic Force upon impact was literally a resounding success.
He entered the passageway without any of the five Curators noticing, soon to be home.
…
Kingdom Earth, cave two, Eden Formation.
"Senior sister Anet, senior sister Anet, you've been secluded in the Soul Tempering Chamber for six days. All of us thought that you're still in Valgarel, in the Savage Caves. You should've at least told Don Mor that you are back, you know that superintendent Ten won't bother".
A young girl with shoulder length hazel hair, hazel eyes and white skin, wearing white and golden uniform and a black ribbon on her left arm, reading: "Student Council Class", greeted the refined looking woman, shorthaired blond woman, Anet.
Her school uniforms were worn and she did not look anymore like the friendly and gentle person she was when Zax departed. There was a vacant gloom in her blue eyes and a hint of ferociousness in the manner she carried herself.
The news came couple of months ago, or maybe it was a year, maybe a day… time seemed vague when she had no days to count for his return.
"I was engrossed in cultivation, Nikita. I'm planning to reenter the Soul Tempering Chamber, please apologize for Don Mor in my name for nothing coming to see her". Anet's voiced wavered.
Since she was informed, after nights and days of bottomless sadness and a downpour of tears, she discovered an ounce of solace by sinking into unyielding, restless cultivation.
Nevertheless, with all her efforts, it was not an easy endeavor for her to cross the last threshold of the soul to the second, Core Master realm and she was struggling with it longer than the news came. So she turned to drastic measures, the Soul Tempering Chamber and the first Savage Cage.
Nikita pouted. She was nineteen years old and roughly the same height as Anet, but her face retained hints of her former childish features. "You promised that you'll help me pick a soul technique in the Summit three week ago and still did not keep your word. Why do you have to be like that, you need to move on". She forced her opinion.
Anet bit her lips, caging whatever she had to say. The first to thirtieth time she snapped at those who told her to forget him. Afterwards she stopped counting until she was tired from repeating the arguments and decided not to respond at all.
"You are so young and almost a Core Master! Who knows, maybe in forty, no, thirty you'll actually breakthrough the final bottleneck! If I were you, yes I would've mourned, but in the end it was not even a long distant relationship". Nikita continued as if it was a rehearsed conversation.
Anet silently pretended to listen, as she already knew Nikita's real motive in coming to see her, and proceeded toward the new school's building of the Soul Tempering Chamber.
"Tell Don Mor what I said, and tell Him to find someone else to court". She quickened her pace, forcing Nikita to jog.
"Tsk! My cousin's feelings are sincere. He is among the youngest graduate of Crescent Arms, not much older than you are. He is handsome, I'm not embarrassed to say, and his cultivation is nearly at the second Core Master level. Don't even let me mention again his status and place in the family! Why won't you give him a chance?"
"Because I don't' want and won't want to. He can't replace him".
They reached the Soul Tempering Chamber. It was a squared building, four meters by four meters, situated right next to superintendent Ten's old maintenance building, who was not present at the moment.
The light above the chamber's steel door was green, indicating that it was empty, which was expected since due to the harsh conditions inside only Advanced grade students were allowed to use it, and in the hour and a half that passed since Anet was compelled to take a rest from her six days' session no one had yet to notice that it was free for use.
"Cousin Grent doesn't want to replace him. He simply liked you for a very long time, since seeing you in the Martial competition. You don't deserve to stay melancholy for the rest of your life and if anything, he just wants to make you happy". Nikita insisted.
Anet ignored her, ignored the urging of her parents at the back of her mind, pleading with her to let go of the grief, that it pain them seeing her like this, again. There were also the voices of his parents – not his sisters, though – telling their son's beloved that being a cultivator does not matter, she is young and she should not submerge in sadness, he would have not wanted for her to remember him like this. His Martial family did not comfort her, for them he was a nephew, brother and a son and he was not the first that they lost, so acceptance, for some, was slightly easier to come by. Last voices in her head were of their shared friends. There were not many and among them few might have felt a pain as great as she does.
Placing her hand on the steel door, she channeled her soul energy for the mechanism to determine her cultivation. The door opened and she entered, closing it behind her without a second of further concern to Nikita.
"Ouu!" Nikita muttered and stomped. "Cousin Grent, you suck! Why did you have to put such difficult demand? Nothing I say convince senior sister Anet! I'll never get the Sky Blooming Orchid!"
…
Cave twenty five.
They did their best, for her, the youngest. The oldest was coming home less and less. The life of a parent who lost a child was something they never imagine they will experience.
"Liz, come. Dinner is ready". Laylen called. "Turn off the Screen, or you won't get to continue to watch after the meal. Marco, did you hear me? If she doesn't get to watch then you also won't".
"We're coming, mom!"
"We're coming, hon!"
The two dashed to the dining table the moment their Screen privileges were threatened, Liz bursts out laughing when Marco lifted her because she was too slow and Screen…!
Watching the pair while carrying a bowl with steaming mash potato, Laylen's eyes were glittering but she managed to hold back the tears.
Only allowed on Creativenovels.com
'We have to strive'. She reminded herself. It was the deal she and Marco made together. Instead of letting what was lost break them, they will use what was left to solidified their bond.
The table had only four chairs around it. There used to be five, but one was removed along with the decision to move on, the vacant remained in case Zetsa might return.
Thinking about their eldest saddened Laylen almost as much as thinking about Zax. She was finally opening up to the idea of a relationship, perhaps by the constant nagging of Anet. Then she surprised them by agreeing to one date with the son of an old acquaintance, Habul Majid, who she once promised to give a chance. Regrettably, the hope they had for their daughter to not abandon her womanhood, at least recall it in their lifetime, eventually did not come to fruition.
With Liz they had less to worry about. The little girl was seven years old and when Zax left she was barely six. She asked questions, same questions repeatedly even after being answered, time and time again, and was moody when they did not correspond with what she wanted to hear. Nevertheless, her young age was her blessed advantage, as her ingenuous mind was simple to distract, mostly. Therefore, Laylen and Marco elected to took a sabbatical from their jobs and concentrate on Liz for half a year, a year time. Financially they were secured despite refusing the compensation for their son's supposed "service to the kingdom", even Don of the great Dauch family could not them to accept, regardless of their reason.
Dinner was mash potato, roast lamb and salad, which no one was absolved from eating!
"Tomorrow we will go to grandpa's and grandma's farm. Your big sister also promised to be there. We'll have fun picking corn and then make a barbeque".
"Big sis Zetsa will come?" Liz called excitedly. "Would she bring Krikitories? Can Shulip, Rarahel, Mes and everyone also come?!" Not long ago she might have expected it to be an unreasonable request, but these days, not just her parents, everyone were good and caring to her. "Anet told me that she is busy and only next week she will take me to the capital cave". She sulked as she remembered.
"Whoever will be there, will be there, sweetheart". Laylen softly said.
"Liz", Marco hesitated before heaving a deep sigh. "If you want, Zetsa will take you to meet your Krikitory friends". One left their sight and he will never return, another constantly appearing and disappearing that they do not know anymore what to expect. Thinking of letting Liz go, even to a short trip with her capable sister or Anet, bred emotional turmoil on their nerves.
Laylen gave Marco a meaningful look. In her opinion he should not have said this to Liz. First, it was not certain that Zetsa will take her for a day trip. She would probably extend to longer than they would want. Second, a day alone with someone else in the beasts' territory was entirely different than in Kingdom Earth!
"I want to go with big sis! Mom, after we eat, help me make a bag!"
Laylen grimaced. She was well aware that they are spoiling her too much, but as long as they felt that it was too early they did not have the heart to redraw boundaries. "We will take care of it tomorrow, before going to grandpa, but you must finish everything on your plate".
She and Marco wished to have the strength to handle the situation like responsible parents, but the blow broke them and the fragments that were holding required their utmost effort to not collapse, even if it was what they needed.
Dear Readers. Scrapers have recently been devasting our views. At this rate, the site (creativenovels .com) might...let's just hope it doesn't come to that. If you are reading on a scraper site. Please don't.
Suddenly…
DING!
DONG!
Psst! Psst! Click here and join our YouTube Channel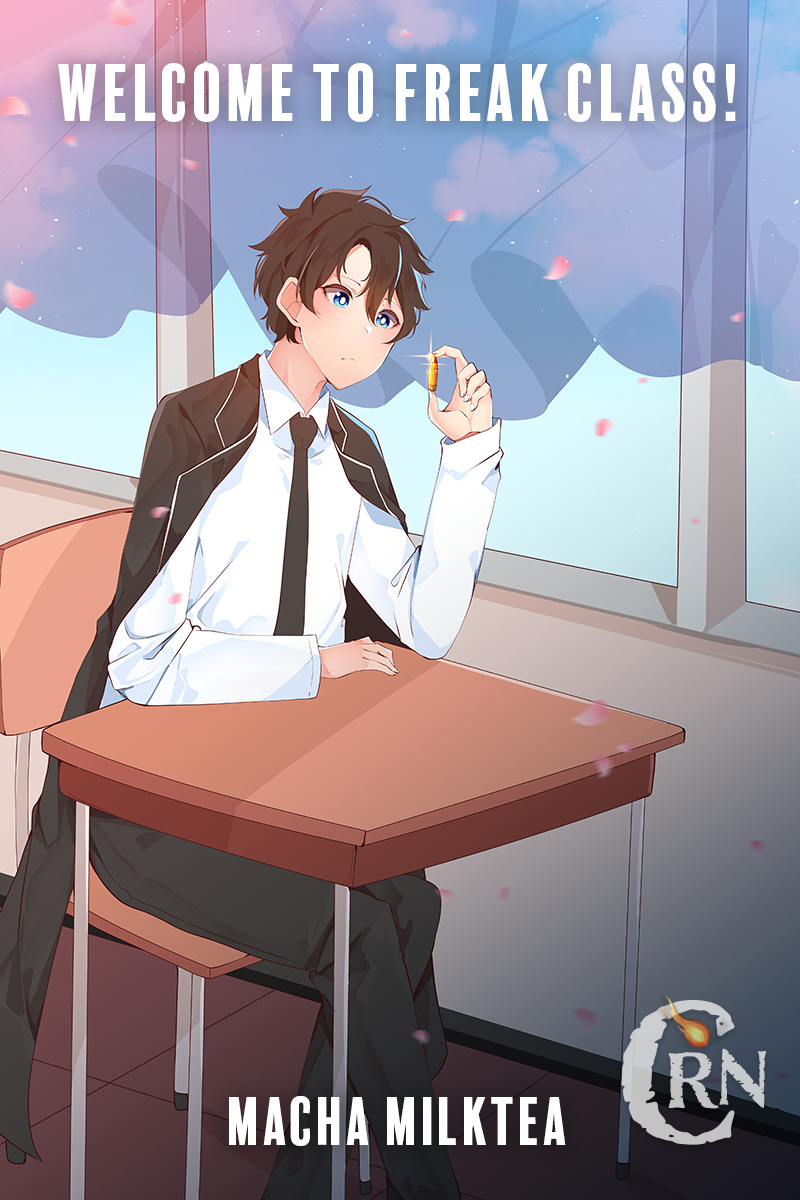 Licensed Translation - Coming January 2020
Title:
Welcome to Freak Class!
|
Tags:
Fantasy, School, Slice-of-life, Comedy, Action.
Synopsis:
Morishita Yuu is a senior high school student who was placed in Class X due to a drastic drop in his scores, failing terribly in his junior high school results. Class X is one of the last in the grade. Although it might seem like a normal class, from what the others students have said, all the students from there are unapproachable, and the class itself has been nicknamed the "Isolated Classroom". There, Yuu meets the class monitor, Takamaru, along with many others. Only, as he discovers their individual personalities, he realizes that they are all absolute freaks! From this day on, Yuu begins his everyday life with a bunch of freaks.
---