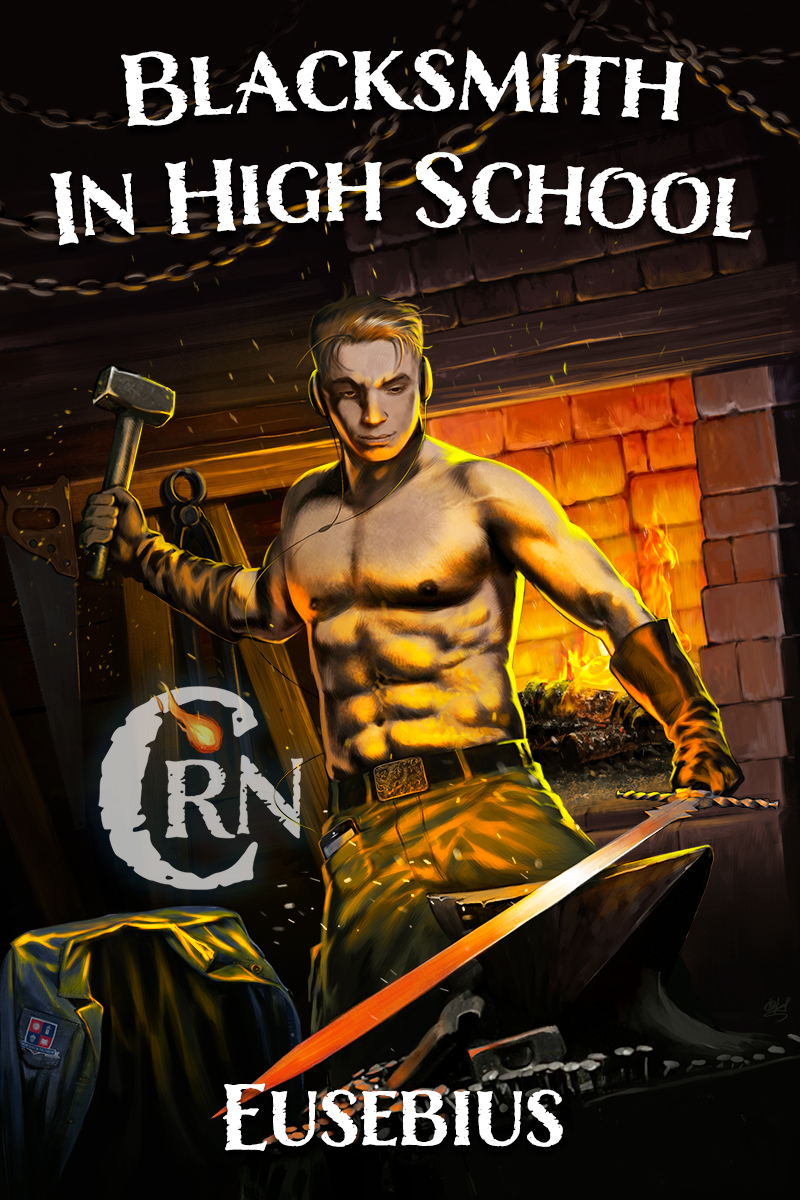 Blacksmith In High School, 3x a week!!
Title:
Blacksmith In High School
|
Tags:
Time Skip
Synopsis:
A fast-paced story about a youngster who loses everything and everyone he holds dear. Through the only family that still remains with him, his uncle, he gets to choose to dedicate his focus and attention to blacksmithing rather than to fall into depression and street life...
---
Looking for Authors for Exclusive positions! Paid. DM the Admin on Discord if you're interested. LINK
It's been a long, long time since I took a gander at the cores of my two longest serving companions. All in all, a little inspection is probably overdue, but I've grown to feel that poking at their status too often is probably a bit invasive. They've never complained about it, but so far I've hesitated to ask. But the time has come! I can no longer shy away now that the momentous moment of evolution is approaching. After a bit of wavering back and forth, it's Tiny who winds up first on the chopping block.
Bringing my antennae forward to tap him on the arm, I activate the core shaping skill that hasn't been used in quite a while. Immediately a flood of information pours into my mind, but far from being overwhelmed by it, my recently minted super brain is more than capable of tackling the load. Quite different from my past experiences, I navigate through the disjointed mess and find my way to the core of what I'm looking for. The summary of everything that Tiny is, the status page!
Name: Tiny
Level: 52 (Rare core) (V)
Might: 267
Toughness: 51
Cunning: 11
Will: 28
HP: 102/102
MP: 262/262
Skills:
Grand Master Kong Fist Boxing (V) level 56; Horizon Piercing Uppercut (IV) level 25; Comet Leap (IV) level 30; Master Heavy Smash (IV) level 11; Expert Athletics (III) level 17; Expert Grappling Level (IV) 25; Penetrating Smashing Blows (IV) level 6; Glittering Fancy Feet (IV) level 8; Flicker Dash (III) level 18; Expert Dodge (III) level 14; Expert Kong Combo (IV) level 31;
Mutations:
Detonator Enhanced Musculature +25, Condensed Granite Bones +25; Collapsing Meteor Legs +25; Stone Shattering Sonic Enhancer +25; Compressing Rapid Lightning Mana Affinity Gland +25; Compressing Rapid Lightning Mana Affinity Gland +25; Rapid Combusting Energy Conversion Gland +25; Potent Flex Shadow Wings +25; Magnifying Tesla Fur +25; Regenerating Steel Flesh Fists +25;
Dear Readers. Scrapers have recently been devasting our views. At this rate, the site (creativenovels .com) might...let's just hope it doesn't come to that. If you are reading on a scraper site. Please don't.
Species: Shadow Kong Emperor
Skill points: 20
Biomass: 211
Holy mackerel! Look at these Skills! How the heck has he managed to raise them so high? Actually… when I take a look through the list, almost every skill is related to punching in some way… so long as he's hitting stuff, he's pretty much leveling every skill. Also, it appears as though he fused a bunch of skills to make Grand Master Kong Fist Boxing, which would explain why his fighting style looks so much more organised than it did before. His punches are so much cleaner, far less wild swings, and much faster. I notice that his dashing and dodging skills are lagging a long way behind his general hitting skills. Typical Tiny, far more interesting in belting his opponents around than he is in avoiding damage. Fancy Feet has certainly come a long way though.
Looking through his mutations, all of them are as straightforward as they could possibly be. More explosive muscles for hitting harder, more solid, regenerating fists, so he can hit harder, extra energy, for hitting more often and more solid bones to absorb the force of his punching. Is this what Granin was talking about with his 'synergy' talk. Somehow, despite putting no thought into the process at all, Tiny has managed to turn himself into a lean mean punching machine, with almost all of Skills, body parts and mutations dedicated to hitting things as hard as he can. And blasting lightning at stuff, let's not forget that also.
[I'm actually impressed, Tiny. You may be thick as three bricks fused into one, but you know what you like and you've stuck with it. I think the things we discussed with the shapers will work perfectly for you, although I'll have to talk you through it since you slept through the whole thing…]
Tiny gives me a quick thumbs up as he gets back to eating.
[Just keep in mind that I'll be bumping your Cunning up to twenty before you evolve so you can use the manual evolution menu. Which means you're going to lose a little muscle mass.]
He freezes in horror and clutches at his biceps whilst staring at me reproachfully. I ignore him.
[Alright Crinis, your turn. You can keep eating if you want, this won't take long.]
[Oh, no! I'll wait.]
Enlarged to her full size, Crinis is a much more intimidating sight than her usual blob. Three fanged filled maws that seem to be wrapped around a dark void, a mass of shadow flesh that sprouts innumerable tentacles, each one covered in oscillating barbs that gleam razor sharp. In many ways, she's a terrifying creature, but I sincerely struggle to think of her that way after all of the time we've spent together.
I bring my antennae forward to touch her mouldable flesh before I activate the skill once more and navigate the stream of information that comes flying my way.
Name: Crinis
Level: 54 (Rare Core) (V)
Might: 130
Toughness: 110
Cunning: 86
Only allowed on Creativenovels.com
Will: 64
HP: 210/210
MP: 260/260
Skills:
Grand Master Shadow Flesh Manipulation (V) level 45; Grand Master Grappling level 18 (V); Master Shredding (IV) Level 39; Omniscient Tremor Sensing (V) Level 39; Barbarous Dismembering (IV) Level 22; Quivering Fear Inspiration (IV) level 26; Mana Moulding (IV) level 11; Dextrous Tentacle Walking (IV) Level 2; Master Tentacle Fu (IV) level 25; Finer External Mana Manipulation (IV) level 12; Master Shadow Magic Affinity (IV) level 34; Expert Stealth (III) level 18;
Mutations:
Amorphous Armoured Shadow Flesh +25; Disintegrating Ion-Void Maw +25; Bottomless Endless Dimensional Stomach +25; Tri-Legion Tentacles +25; Sharpened Diamond Barbs +25; Visceral Teeth +25; Far-Seeing Omniscient Mana Sensory Gland +25, Compressing Reservoir Shadow Magic Gland +25; Instantaneous Shadow Flesh Generator +25; Piercing Shadow Eye +25; Broad Masterful Tentacle Conductor +25; Broad Masterful Tentacle Conductor +25; Fathomless Light Sink +25; Hyper Shade Phase Organ +25; Disintegrating Ion-Void Maw +25; Disintegrating Ion-Void Maw +25; Mouldable Cell Structure +25;
Species: Tri-Maw Amorphous Horror
Skill points: 45
Biomass: 149
A much more diverse build, Crinis has also made excellent progress on her Skills, as well as ensuring that her mutations are in tune with each other. Her ability to create a plethora of tentacles and control them with incredible dexterity continues to grow. Her dual tentacle conductors act like sub-brains whose sole responsibility is handling tentacle movement, each capable of managing sixteen separate limbs without the input of her own mind. The three disintegrating maws are fearsome offensive weapons, capable of breaking down almost anything that she manages to get her teeth into. She certainly has a lot more versatility than Tiny in her build, but is very, very good at what she does.
[You've done really well, Crinis,] I praise her enthusiastically. [You've set yourself up perfectly to implement the ideas we discussed. I can already tell that your next evolution is going to be very, very impressive.]
[T-Thank you, Master!] she replies, her tentacles writhing with glee as the three-mouthed horror sways back and forth in a strange display of bashfulness.
With the inspection complete and the two of them finished eating their way through their Biomass, it's time for us to get back on the road. We gather ourselves together and head to the tunnels once more. The wave continues and we need to do our part to push back the tide.